/
/sale/
/sale-extra-5-offer/
/products/coast-and-simplicity-plus-car-seat-with-isofix-base-bundle/
/products/coast-dream-i-size-base-bundle/
/products/coast/
/products/nostalgia-sleigh-cot-bed-and-dresser/
/products/nostalgia-sleigh-cot-bed/
/products/oberon-dolls-pram/
/products/essential-discover/
/products/moses-basket/
/products/pregnancy-pillow/
/products/great-scott-muslin-swaddles-pack-of-3/
/products/pretty-wild-muslin-swaddles-pack-of-3/
/products/pretty-nature-muslin-swaddles-pack-of-3/
/products/wayfarerpioneer-cup-holder/
/products/wayfarerpioneer-car-seat-adaptors/
/products/wayfarerpioneer-simplicitydream-adaptors/
/products/reflex-simplicitydream-adaptors/
/products/outlet-zest-footmuff/
/products/outlet-clic-footmuff/
/products/outlet-wave-tandem-seat/
/products/st-ives-wardrobe/
/products/greenwich-wardrobe/
/products/dream-i-size-infant-carrier-with-isofix-base/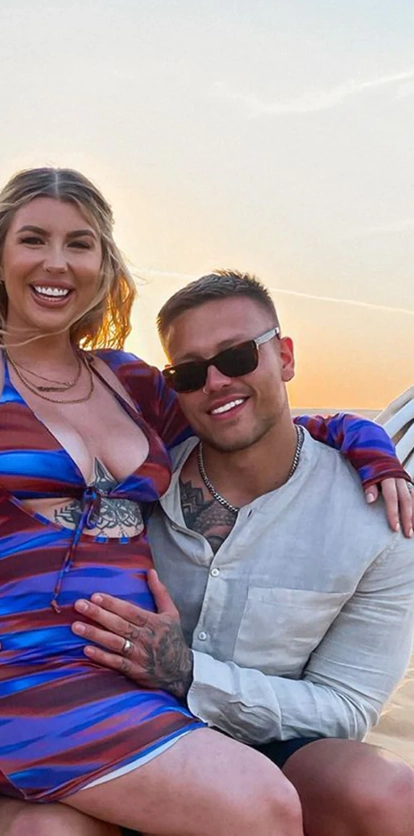 Olivia Bowen: Becoming a mum
Love Island star and mama-to-be Olivia Bowen chats all things pregnancy
Author
Olivia Bowen
Olivia and Alex Bowen's relationship has blossomed since their Love Island appearance in 2016. Now married, living in their dream home and pregnant with their first baby, we caught up with Olivia on all things pregnancy and motherhood – from the changes to her body and style, to the moment she knew she wanted a family of her own.
A big congratulations on your pregnancy! Describe the moment you found out you were expecting.
Thank you so much! It has got to be one of the most indescribable feelings – shock, excitement, nerves – so much adrenaline, I was shaking from head to toe! I even had an inkling that I was pregnant, but it still didn't prepare me for that little word 'positive' splaying across the test screen. Alex and I had no idea what to do once we found out. It's so hard as you don't tell people straight away so you've just got this big secret between you both. Safe to say I didn't sleep that night!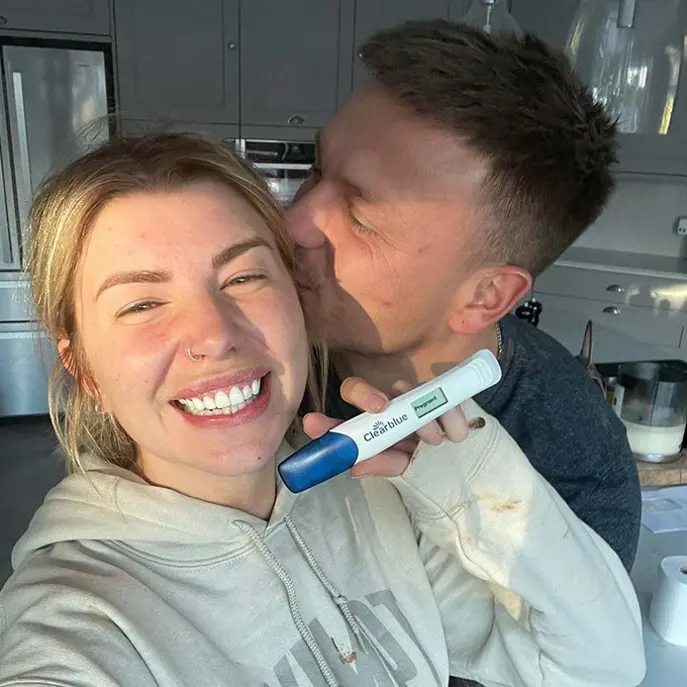 Did you always want a family?
I hadn't ever been 100% sure that I wanted a family. Back when I was 21 before I met Alex I was adamant I was never getting married and really didn't think I would ever have children. The thing is you grow, you change and you experience life. So, me at 21 – let's just say was a whole lot different to me at 28!
Even once I met Alex, we wanted to have our life together and enjoy our own relationship first, before bringing a child into it. Alex has always been sure he wanted to be a dad, which I really love and admire about him. For me it took a little longer to be ready for that change and step in my life and in our relationship. I love that I waited and decided on my terms, and now feel really ready – well, as ready as you can be!
You're in your third trimester – how've you found the different stages of pregnancy?
It's such a rollercoaster! The first trimester I felt super tired and quite nauseous – I won't lie, I think I was sick in my mouth a number of times whilst driving – how stunning! I do feel very lucky as I've felt pretty good and been able to keep up with Pilates every week which I think has really helped keep me flexible and active without putting too much strain on my body. Now I'm in the third trimester I definitely feel like I've swallowed a watermelon and putting socks on is becoming more of an Olympic sport than I ever imagined!
Have you embraced the changes to your body?
Before I was pregnant, I have to be honest I was worried I would struggle with self-love and my body image – it's always come across very alien to me. However, since becoming pregnant, I appreciate what my body is doing. I'm so excited and occupied by the thought of the arrival of baby Bowen, hating my body is the last thing on my mind. Women are incredible and we need to give ourselves more credit for what we can do and what we go through to bring a child into the world.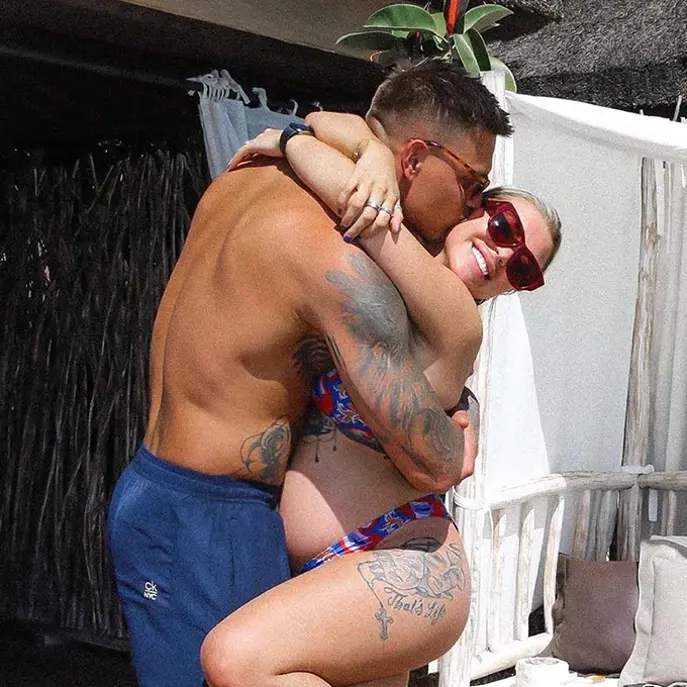 We love how Rihanna's redefining maternity style. Do you think there's too much pressure on pregnant women to dress a certain way?
I was hit with a comment when I was in the early stages of pregnancy that I 'shouldn't be posing in lingerie now I'm pregnant'. It really baffled me. Women don't have to change their personality, their jobs or what they like to wear just because they are becoming a mum.
I do think there is a pressure to suddenly become all 'virginal' – which, I mean, what an oxymoron for you! I love dressing my bump, whether I want to slob around in tracksuits all day or dress up in bodycon – it's my body, my baby bump and I'll dress to express as always!
Any maternity essentials you couldn't live without?
Pregnant ladies all need a pregnancy pillow in their life! I got the bbhugme pregnancy pillow and I have slept with it every night since about 12 weeks pregnant. It supports your bump and can go between your legs too to help prevent aches and pains. I'm also living in my Maternity Love leggings, they're so comfy and come in so many colours.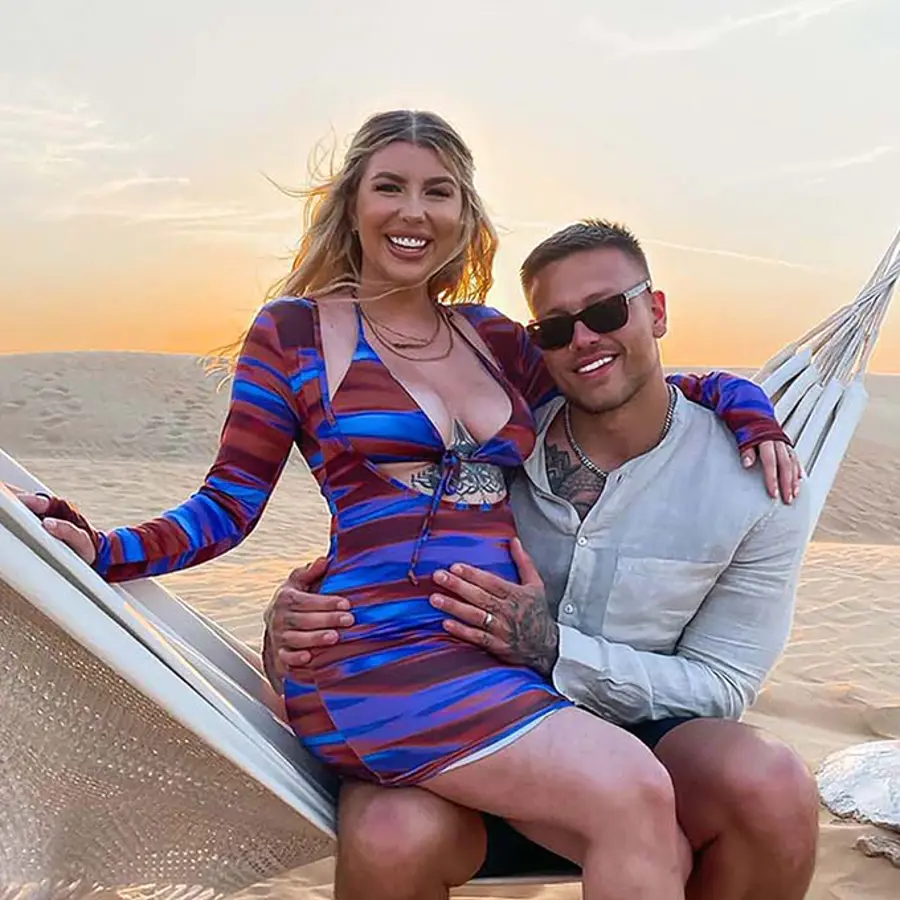 What are you most excited for about becoming a mum?
It's hard to pinpoint one thing – there's a lot of things I'm nervous about. As any new mum it's so daunting, there is so much to learn and take on we forget to be excited! Two things stick out in my mind though; the feeling of seeing my family and friends meeting baby Bowen for the first time and finally being able to hold and cuddle him or her!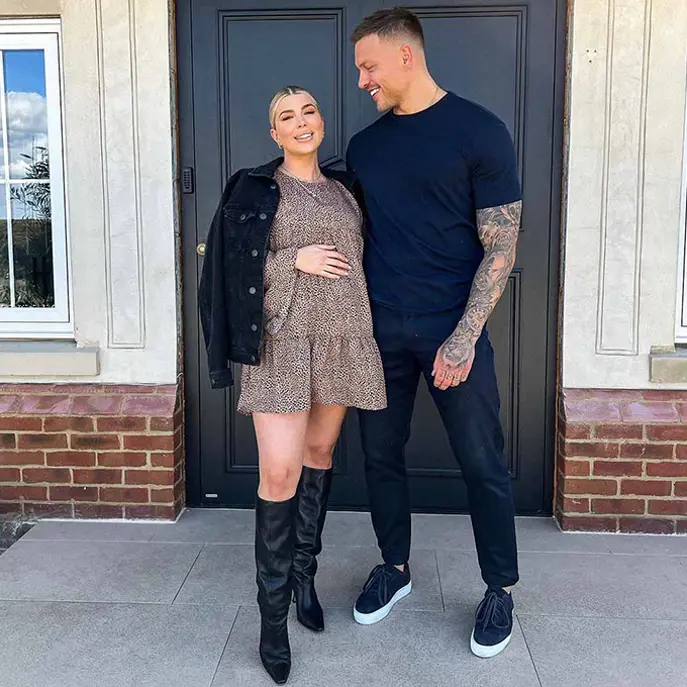 Is there anything about parenthood that's making you nervous?
How long have you got? I'm kidding, sort of. I am quite a worrier – I'm an anxious person and tend to put a lot of pressure on myself to get things right, so I guess I'm more worried about me being worried! I want to try and enjoy it and give myself time to get used to being a mum. I'm going to make mistakes and there's going to be some hard times, but that doesn't mean I need to be hard on myself. It's normal – we're all learning on the job.
We're excited for you to share your birth story with us. How are you feeling about the birth?
I cannot wait to share it with you all. When I first found out I was pregnant I was very scared of childbirth. I've had a fear of it even since school and something quite traumatic happened to a friend of mine. I must say hypnobirthing has given me a new outlook on birth and I'm feeling really positive and almost looking forward to it! I recommend it to any expecting mum as it really taught me the science and the positivity and has given me tools and techniques I hope I can use in labour. I'm hoping for a water birth but to be honest, however baby Bowen wants to make it into the world is good with me.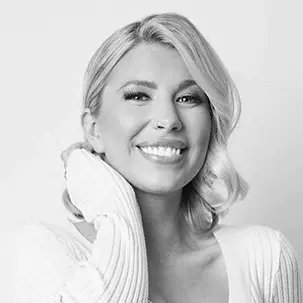 Olivia Bowen won the hearts of the nation back in 2016 on series two of ITV2's Love Island with her now husband Alex. In the years that have followed, her career has blossomed. Alongside launching her own clothing brand, Exempt Society, she has been at the forefront of numerous collaborations and campaigns with some of the country's most loved brands and maintained a burgeoning television career. Olivia remains one of the nation's favourite Love Island success stories, in part down to her authenticity and down-to-earth nature. She has always remained open and honest with her fans and allowed them to be part of her life, which has earnt her a loyal combined social media following.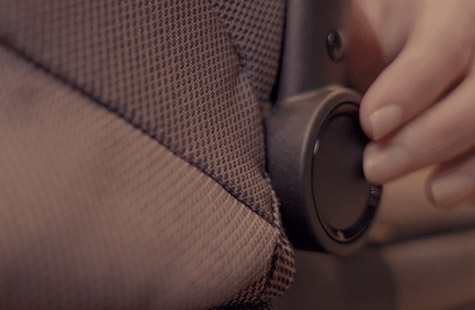 UK Award winning customer service & product knowledge
Frequently asked questions