/
/sale/
/sale-extra-5-offer/
/products/coast-and-simplicity-plus-car-seat-with-isofix-base-bundle/
/products/coast-dream-i-size-base-bundle/
/products/coast/
/products/nostalgia-sleigh-cot-bed-and-dresser/
/products/nostalgia-sleigh-cot-bed/
/products/oberon-dolls-pram/
/products/essential-discover/
/products/moses-basket/
/products/pregnancy-pillow/
/products/great-scott-muslin-swaddles-pack-of-3/
/products/pretty-wild-muslin-swaddles-pack-of-3/
/products/pretty-nature-muslin-swaddles-pack-of-3/
/products/wayfarerpioneer-cup-holder/
/products/wayfarerpioneer-car-seat-adaptors/
/products/wayfarerpioneer-simplicitydream-adaptors/
/products/reflex-simplicitydream-adaptors/
/products/outlet-zest-footmuff/
/products/outlet-clic-footmuff/
/products/outlet-wave-tandem-seat/
/products/st-ives-wardrobe/
/products/greenwich-wardrobe/
/products/dream-i-size-infant-carrier-with-isofix-base/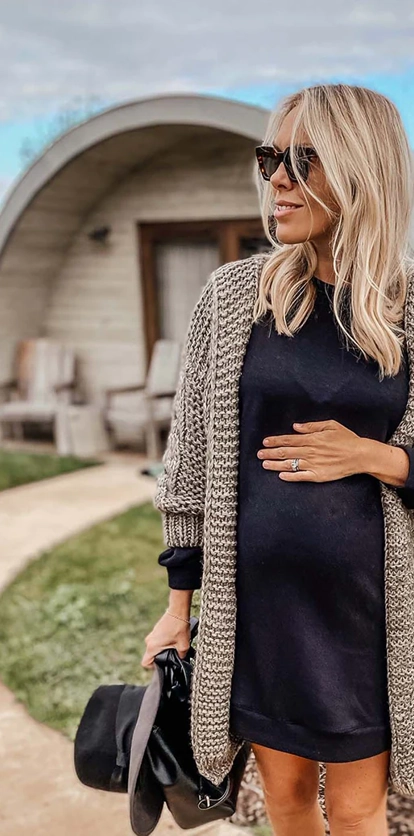 How to style your bump
Pregnancy style tips from Jo Holley, former Retail Editor at Vogue
Author
Jo Holley
Like most women, I really wanted to still enjoy my wardrobe staples for as much of my pregnancy as possible with only minor adjustments having to be made to my style. I wanted to embrace my changing shape and new curves at the same time as maintaining my fashion identity. The female body is amazing and celebrating what we go through during the nine months of growing a baby can be empowering, but also daunting when maintaining our signature sense of style.
Whether you want to build a whole new wardrobe of maternity outfits, or put together looks from what you already own, there are plenty of ways of approaching maternity wear. Not wanting to change my fashion tune too drastically, I've put together some pregnancy dressing rules that I abided by which I hope will guide you through the roller coaster that is dressing the bump.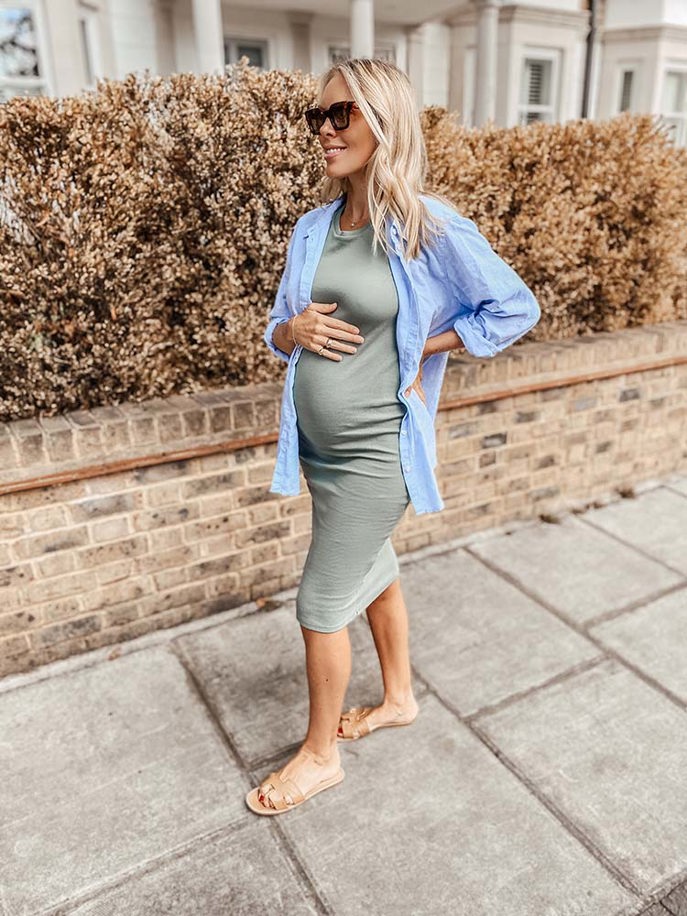 Add interest to a stretch midi dress with a loose-fitting shirt.
Layer up
Layering has always played a big part in my wardrobe, but it took centre stage during pregnancy. If you like to show off your bump in a subtle way, then adding a shirt and a blazer on top of a t-shirt dress is a great way to add depth and interest to a maternity outfit.
An oversized t-shirt under an open cardigan and light trench for example, is a clever layering trick that takes away any pressure to dress a new body shape and gives a comfort factor that is so important during those nine months. My go-to was a chunky roll neck layered under a boyfriend style blazer for a smart but wearable everyday look.
Accessorise
Accessories are a key component during pregnancy. Your main addition is obviously your bump, but adding statement jewellery like some fabulous earrings or a chunky bracelet and pendant adds a different element and creativity to a simple maternity look.
One of my most worn accessories was my waist belt. Dresses or skirts pulled above my bump, worn cinched in with a belt meant I embraced new curves and maintained a silhouette. Worn with flats or heels, by raising my waistline by a few inches, it made me feel comfortable yet polished throughout and is a perfect option for working mamas-to-be or as an evening look.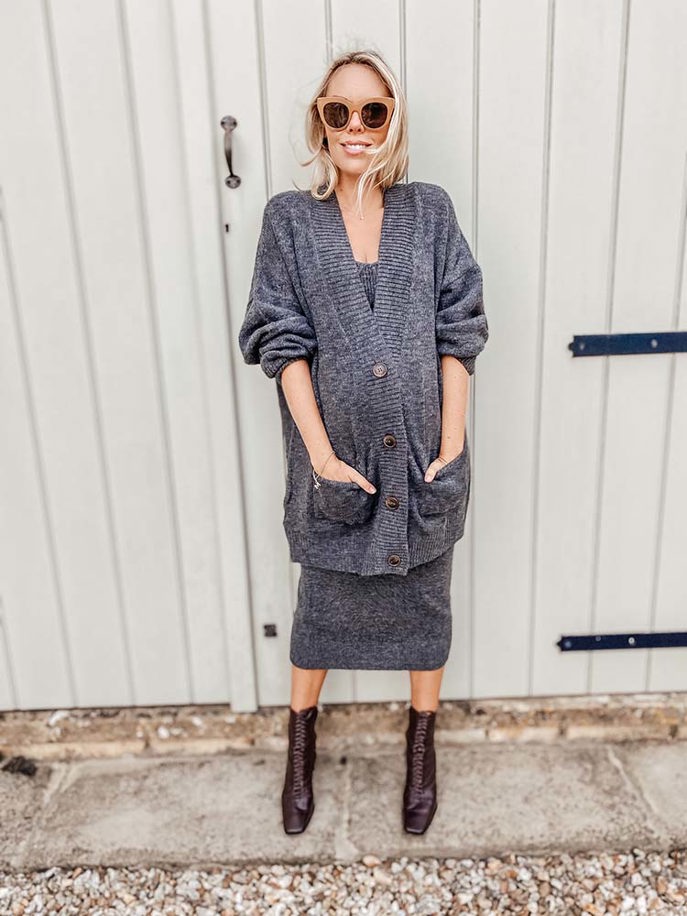 Layer up! Chunky oversized knits are here to stay.
Oversized trend
Luckily the oversized trend has been huge this year and that doesn't seem to be changing. This means that as tops begin to get a bit tight, you can start rummaging through your partner's wardrobe for their knitwear, sweatshirts and shirts. I loved wearing my husband's sweatshirts throughout pregnancy, worn with a stretchy ribbed midi skirt and slides, it embraces comfy chic and keeps you on-trend.
Another oversized item that became a main feature in my wardrobe was the longer length cardigan. Worn done up over the bump or loose as a layer, it worked with my changing shape and is a key piece for post-partum nursing too.
Leather-look leggings are super versatile and a key part of Jo's wardrobe.
Review your wardrobe
You will be pleasantly surprised by how many bump-friendly pieces you already own. Unlikely items such as a ribbed, stretchy, body-hugging dress suddenly looked cute and became the base to create different looks from. You also don't need to discard your favourite jeans straight away with brands such as Maeband providing a very nifty device that uses the button holes to hold them up and can be discreetly hidden under a loose top.
Creating a maternity capsule collection from your wardrobe means you're not going to spend so much on new items that you will only wear for a short amount of time, meaning you can invest in key pieces that you know will take you through pregnancy and hopefully beyond.
Choose leather-look when it comes to leggings
Probably my most asked about item that I wore throughout my pregnancy were my leather-look leggings. Not only did the obligatory elasticated and bump-friendly waist band make them super comfortable, but they looked polished and smart whilst still falling under the umbrella of comfort-wear.
Their versatility means they can be paired with oversized knits as an off-duty outfit, or dressed up with heels and a tunic top for evenings out. I wore them for a good few months after my daughter was born and have just bought the non-maternity versions so I can keep them as a permanent part of my wardrobe.
Add another dimension to your outfit with an exaggerated collar. 
Distraction details
The exaggerated collar trend was made for pregnant ladies, as it works as a great distraction from the bump. Worn under a knit, t-shirt or as part of a shirt, this detail adds another dimension to an outfit and compliments a growing tummy.
Don't let pregnancy stop you wearing embellishments, a lace trim or puff sleeves – all of these details provide interest to an outfit and takes the focus away from maternity wear.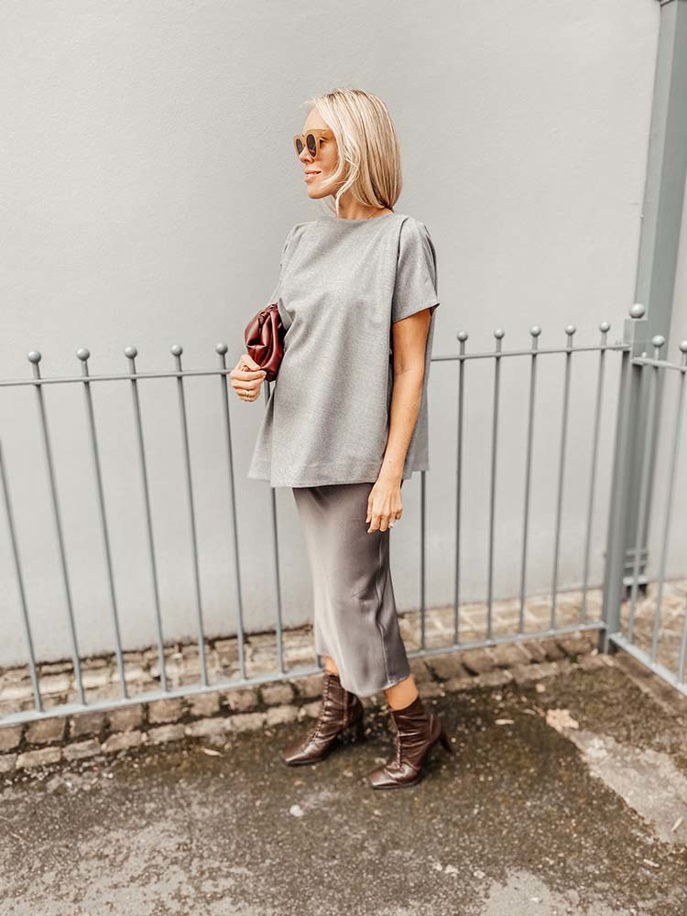 A midi-length skirt is super easy to wear throughout every season.
Practicality wins
When you already have children to look after, low-key and easy-to-wear styles become a priority especially in the latter months. For me, this meant buying a couple of stretchy jumpsuits that I could slip into, wear with flats and be 100% comfortable in.
Talking of flats, with a toddler to run after, I loved wearing floaty dresses and my jumpsuits with trainers. There are so many great trainer brands to choose from and my feet were thankful when I swapped heels for a rubber sole!
Stylise your staples
The midi has always been my go-to length skirt and so being able to continue to incorporate it into my maternity wardrobe meant I was able to embrace my sense of style and enjoy my favored items still. It's all about looking at already-owned pieces and wearing them in a different way.
I selected all my stretchy or ribbed skirts and pulled them up above the bump, with either an oversized tunic top/poplin blouse worn over, or a fine knit top or tucked into a vest. This look worked for all occasions whether it be dressed up with heels for a work meeting or evening out, or worn with flat sandals for lunch with friends. It allowed me to accentuate my growing curves and feel comfortable with my new body, which is most important when enjoying your pregnancy.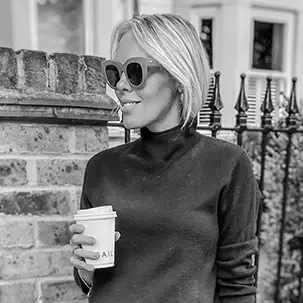 During my 12 year career at Conde Nast, I worked as Retail Editor at Vogue and Glamour. This included putting together shopping pages, writing fashion and beauty articles, presenting trend presentations and hosting shopping events with both luxury and high street brands. I am now a mother of two, a gorgeous 3 year old son and 5 month old daughter, and am juggling parenting and working as a freelance celebrity stylist and wardrobe consultant. My main role is to help clients find their signature style, rework their wardrobes and create a capsule collection of wearable items that will become long term staple pieces. For fashion inspiration, please follow me on Instagram @theeditbutton.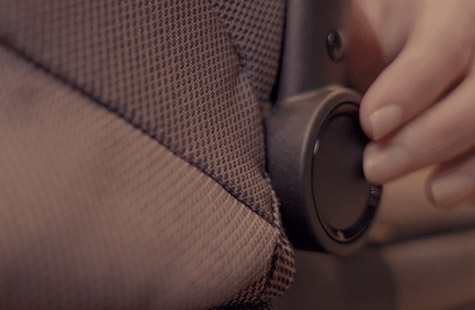 UK Award winning customer service & product knowledge
Frequently asked questions