/
/sale/
/sale-extra-5-offer/
/products/coast-and-simplicity-plus-car-seat-with-isofix-base-bundle/
/products/coast-dream-i-size-base-bundle/
/products/coast/
/products/nostalgia-sleigh-cot-bed-and-dresser/
/products/nostalgia-sleigh-cot-bed/
/products/oberon-dolls-pram/
/products/essential-discover/
/products/moses-basket/
/products/pregnancy-pillow/
/products/great-scott-muslin-swaddles-pack-of-3/
/products/pretty-wild-muslin-swaddles-pack-of-3/
/products/pretty-nature-muslin-swaddles-pack-of-3/
/products/wayfarerpioneer-cup-holder/
/products/wayfarerpioneer-car-seat-adaptors/
/products/wayfarerpioneer-simplicitydream-adaptors/
/products/reflex-simplicitydream-adaptors/
/products/outlet-zest-footmuff/
/products/outlet-clic-footmuff/
/products/outlet-wave-tandem-seat/
/products/st-ives-wardrobe/
/products/greenwich-wardrobe/
/products/dream-i-size-infant-carrier-with-isofix-base/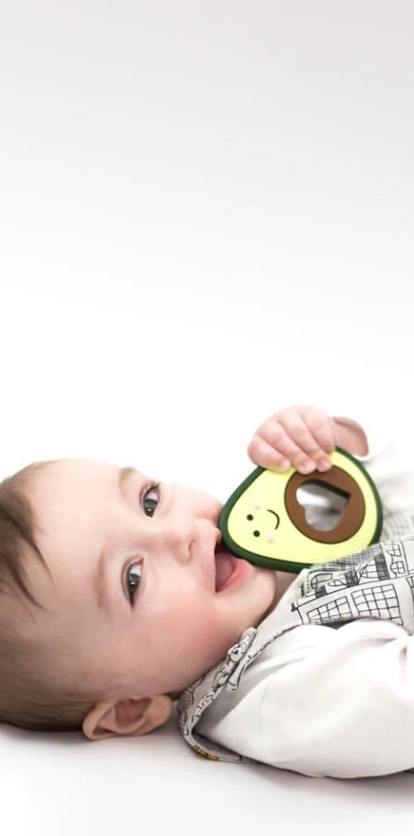 "Teething has the power to disrupt everything!"
How one mum's teething journey inspired a brand new business venture
Author
Liz Edmonds
Little Teethers is a small, family-run business which creates contemporary teething toys and jewellery. Founder, Liz Edmonds, tells The Edit how her own two "little teethers" helped inspire the brand.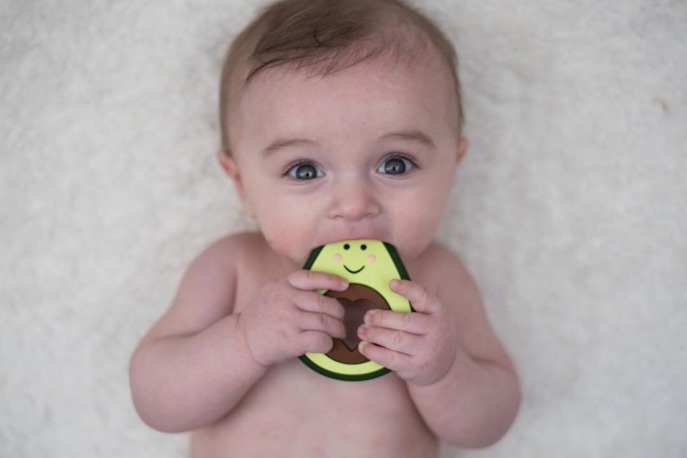 Arthur the Avocado Teething Toy.
Tell us about Little Teethers
Little Teethers is the home of contemporary and design-led teething toys for babies and toddlers together with stylish, safe teething and nursing jewellery.
Created with love in our little studio in the seaside town of Shoreham-by-Sea, the ethos behind Little Teethers is to bring you practical, safe and fun teething toys for your little ones, and a range of practical teething jewellery that you can wear every day.
What inspired you to launch the brand?
Little Teethers was inspired by my own two little teethers. From a few months old, my first son suffered a great deal with his first few teeth. At the time, I struggled to find anything that helped to soothe his pains effectively that was also visually appealing.
So, I began to design teething toys and jewellery that complemented our style. I have always been drawn to more neutral and pastel tones. Inspired by designs and colours around me, I used those to create colour palettes for teething toys and teething jewellery. It was from there Little Teethers was born. Whilst I have a few brighter designs on the market, my core ranges remain contemporary in design and colour.
Teething can be a difficult time for babies and parents. How do your products help?
Teething can be an extremely difficult time and it has the power to disrupt everything! You may notice your little one being more fussy than usual, they might have a loss of appetite, or sleep could be disrupted…something no parent wants!
With two children who teethed from around four months, I have tried many remedies…so, so many. But our silicone rainbow and Arthur the Avocado teething toys were always the most effective in helping. The perfect size for little hands to grasp firmly (important when they are furiously trying to chomp for some pain relief!) with a textured, raised back for massaging those sore gums.
Another remedy we used frequently was popping the silicone teething toys in the fridge for a few minutes. The cool sensation can help to soothe sore gums, which can be an absolute life saver when things get really tough.
Our necklaces were also essential for feeding time, helping to distract little hands from absentmindedly pulling my hair and scratching my skin as they fed. The variously shaped, textured and coloured beads helped to focus their attention as they fed and doubled up as a handy little teething tool within perfect reach when snuggling in my arms!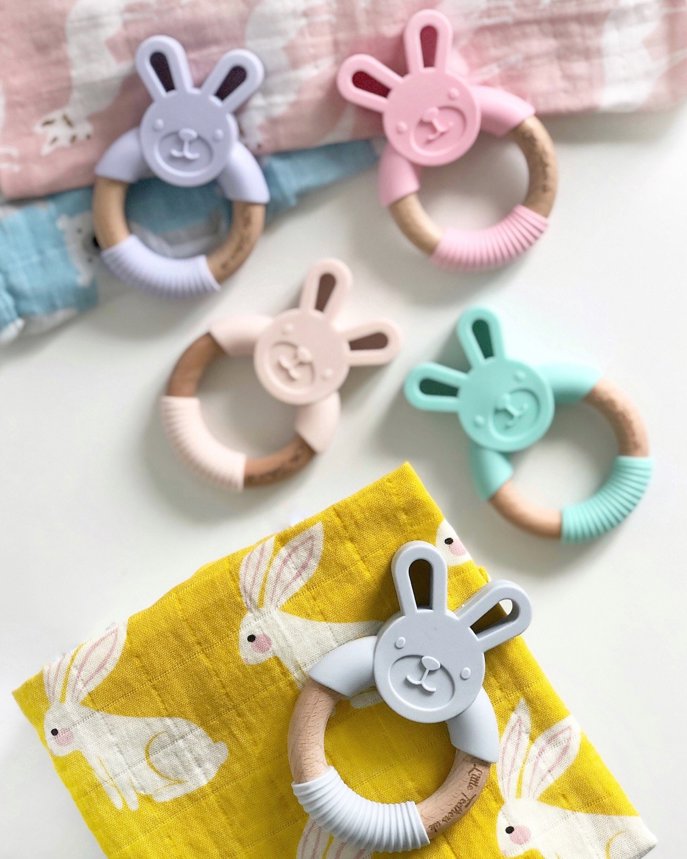 Bunny Teething Toy.
You're a small family run business. How do you juggle working life with being a mum?
Working around my young family has been challenging, but when you love what you do I think that passion is what drives you to fit in snippets of designing, creating and packing orders whenever time allows. In the initial stages, Little Teethers was very much a 'nap time business' where I would work as my son slept and in the evenings. As we have become busier as a family, I have adapted to make sure it works for all of us.
My priority is always my children and, whilst I consider Little Teethers to be like my third baby, we have days where work is strictly off limits. This sets good boundaries for us so that we can enjoy our time together. We are extremely fortunate that our children are able to attend nursery a few times a week. Those days are my designated 'working days' and that has really helped us as a family to separate the work and home life. You never truly switch off when you run your own business, but I think it is important to find a balance that works for your family.
What advice would you give to new parents looking to launch a business?
For anyone considering starting your own business, it is not without its up and downs. You are your own boss and with that comes flexibility to work when and where you like. It also comes with a huge amount of responsibility. I am the designer, creator, packer and despatcher. The one who manages all social media accounts, the website, other selling platforms, as well as all necessary admin. But it is my creative outlet, something just for me. It has introduced me to a community of like-minded, passionate, and creative small business owners, many of whom I am lucky enough to now call close friends. Life is too short for regrets, so my advice would be to go for it!
What makes Little Teethers special?
So, what makes Little Teethers special? Simply put, the love, care and attention to detail that goes into each of the unique designs that are created here. Hours of design and testing ensure that safety for you and your little ones is my top priority!
What's next for Little Teethers?
I am always looking for new and innovative ways to expand my catalogue, so make sure to follow me on Instagram to be the first to hear of any new teething toy and teething necklace designs in the future as well as my expanding gift range!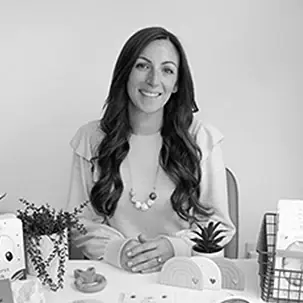 Little Teethers
Liz Edmonds is the founder of Little Teethers, a small, family-run business which creates contemporary teething toys and jewellery. After struggling to find products that both helped soothe her son's teething pains and were also visually appealing, she began to design her own. Each Little Teethers product is lovingly made, packed and sent from the family's studio on the Sussex Coast.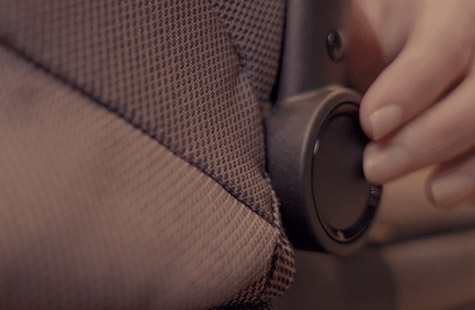 UK Award winning customer service & product knowledge
Frequently asked questions