/
/sale/
/sale-extra-5-offer/
/products/coast-and-simplicity-plus-car-seat-with-isofix-base-bundle/
/products/coast-dream-i-size-base-bundle/
/products/coast/
/products/nostalgia-sleigh-cot-bed-and-dresser/
/products/nostalgia-sleigh-cot-bed/
/products/oberon-dolls-pram/
/products/essential-discover/
/products/moses-basket/
/products/pregnancy-pillow/
/products/great-scott-muslin-swaddles-pack-of-3/
/products/pretty-wild-muslin-swaddles-pack-of-3/
/products/pretty-nature-muslin-swaddles-pack-of-3/
/products/wayfarerpioneer-cup-holder/
/products/wayfarerpioneer-car-seat-adaptors/
/products/wayfarerpioneer-simplicitydream-adaptors/
/products/reflex-simplicitydream-adaptors/
/products/outlet-zest-footmuff/
/products/outlet-clic-footmuff/
/products/outlet-wave-tandem-seat/
/products/st-ives-wardrobe/
/products/greenwich-wardrobe/
/products/dream-i-size-infant-carrier-with-isofix-base/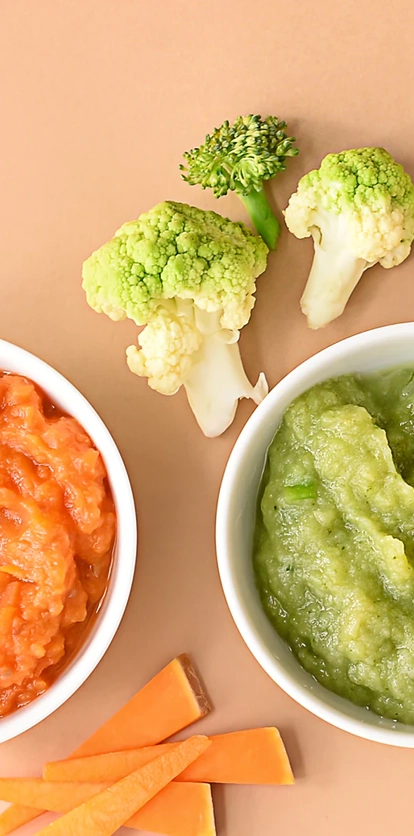 Healthy pram snacks
Tips, tricks and recipes for feeding on-the-go
Author
Adam Shaw
When you're home with your little one during the day, making healthy food for them to enjoy is relatively straightforward. They're in their highchair in a safe space using familiar plates and bowls and it doesn't really matter if they make a mess (although the clearing up afterwards takes ages!).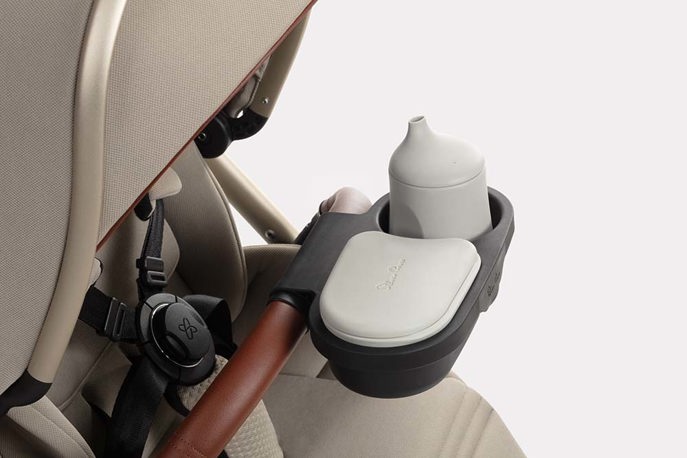 Shop: Dune/Reef Snack Tray
When you're on the move it can be hard to know what to provide as snacks. You don't want anything too messy or anything that will disintegrate, and it obviously needs to keep well outside the house and taste good cold. It goes without saying that anything healthy, full of lovely nutrients is better too.
Finger foods like muffins, scones, fritters, frittatas, loaves and porridge bars work best here, especially as almost all of these can be batch cooked – when you head out in the morning, you can just take a few out of the freezer and by snack time they'll be ready to eat.
Silver Cross' new snack tray – designed to be used with the new Dune and Reef pushchairs - is a fabulous invention as it's a great way to safely transport snacks when you're out and about. There's nothing worse than a squashed muffin at the bottom of the pram!
I really enjoy using finger food to expose my children to lots of different vegetables, textures, herbs and spices. For example, you could cram lots of vegetables into some muffins (I like using peas, sweetcorn, grated courgette and carrot, onion and garlic) and make some vivid green spinach bread or mini kale scones. 
Herb and spices wise, cumin, coriander and turmeric are gentle spices to introduce from 6 months onwards and go really well in some courgette fritters. Italian herbs such as oregano and basil are also great to use in frittatas.
If you're looking for something a bit sweeter, apples, bananas, blueberries and pear make fabulous muffin ingredients and a tablespoon of cinnamon running through the mix adds extra flavour.
I'd say it's important to be confident when it comes to creating dishes for your children. Allergies excluded, there's really only a few foods that very young children can't eat, so anything that's baked or mixed together is a great opportunity to expose them to new tastes from an early age.
In most recipes you can also increase the nutritional value by swapping plain flour for wholegrain flour, or at least going for half and half.
Most finger foods use eggs and yoghurt as binding agents but if your little ones are allergic to either you can sub in chia seeds for eggs, plant-based yoghurts, mashed banana or apple puree.
So, in conclusion, some finger foods are perfect to be enjoyed by baby in the pram. They're great ways of getting lots of veg, herbs and spices into their diet and improving motor skills. They're good for the wallet too as you can just pop them out of the freezer in the morning. Batch cooking pram snacks saves time and cuts down on food waste and you may find that baby is so distracted when out and about that they'll eat the whole thing, and maybe their older brothers and sisters will join in too!
I've included one of my favourite pram snacks here – Pea and Feta Fritters. I just love the colour of these! You can find recipes for lots of other pram snacks over on my Instagram @at_dads_table.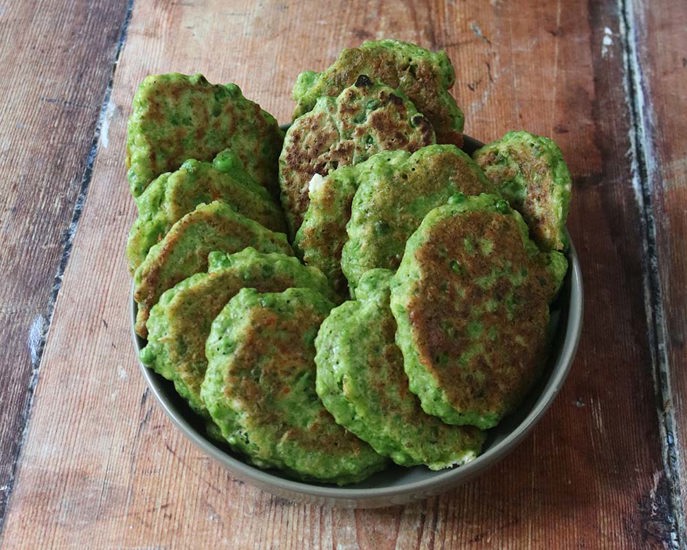 Pea and Feta Fritters by Adam Shaw
Pea and Feta Fritters
Makes around 14-16 fritters. Vegetarian. Suitable for 12 months plus
Ingredients
500g frozen peas, 
240g self-raising flour, 
1 tablespoon of dried mint, 
80g feta, 
3 eggs, 
1 shallot or around 1/3 of an onion, 
Oil for frying
Method
1. Boil the peas for a few minutes then drain. Place about two thirds into a food processor and set the rest aside. 
2. Add the dried mint, onion, eggs and flour to the food processor. Blend until smooth. 
3. Spoon the mixture into a bowl, then crumble the feta and mix in along with the rest of the peas. 
4. Heat a little oil in a pan. Add approximately a serving spoon size of the mixture to the pan and cook for around 2-3 minutes a side. I like to get 3-4 in a pan and have a couple of pans on the go so I can get it done quickly! 
5. These will keep for 48 hours in an airtight container in the fridge. If freezing, wrap individually in cling film.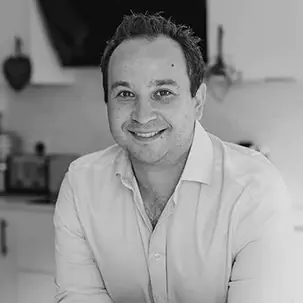 At Dad's Table
Adam is a Leiths trained chef, dad of three and founder of At Dad's Table. He specialises in creating fun, healthy and tasty dishes for pregnancy, early parenthood, weaning and family meals. Adam has helped thousands of families around the world to take more pleasure in eating well by focusing more on what you can have and less on what you can't. He is a regular industry speaker and his debut cookbook, How to Grow Your Family, will be published in 2021 by Nourish Books. Find him at @at_dads_table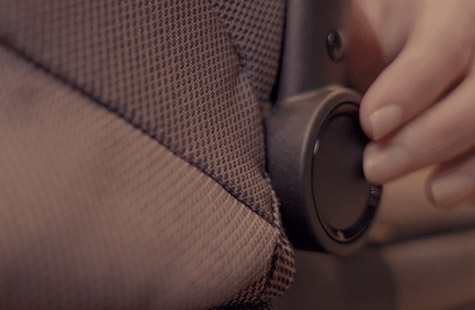 UK Award winning customer service & product knowledge
Frequently asked questions