At the start of pregnancy your body is creating a life, rather than growing one. This requires a huge amount of energy and goes some way to explaining why, in the first trimester, you may be craving carbs carbs carbs - mostly in the form of beige food.
There is absolutely nothing wrong with this but if you can swap out starchy white carbs for wholegrain to give you more nutrition then all the better, so we're talking wholegrain pasta, bread and cereal, brown rice and noodles and sweet potato.
Folate (Vitamin B9) is especially important during the first trimester as it reduces the risk of birth defects like spina bifida. Folate is prevalent in green, leafy vegetables such as spinach and kale as well as broccoli, aubergine, peppers and peas - foods you may not fancy eating early on in pregnancy. If this is the case, try making your own pesto or soups and hide extra vegetables in stir-fries, curries, scrambled eggs and pasta bakes.
Pulses and beans are not only great sources of folate, but fibre, other vitamins and protein too so are great pregnancy foods. Protein-rich foods such as eggs, lean meats, fish, nuts and pulses give you the extra energy kick you need, something especially important in the first and third trimesters.
In the second trimester you will probably find your appetite returning so it's a great opportunity to really eat the rainbow and consume as many fresh fruits and vegetables as you can. As well as salads go for a lovely gazpacho or chilled pea and asparagus soup or add some slices of mango or orange to your stir-fry.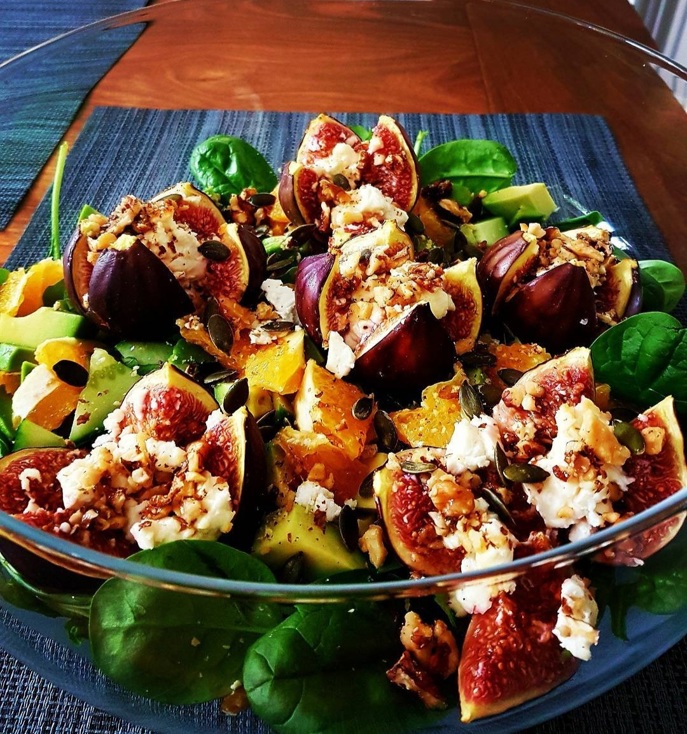 Fig, orange and feta salad: The second trimester is a great time to really eat the rainbow as your appetite begins to return to normality.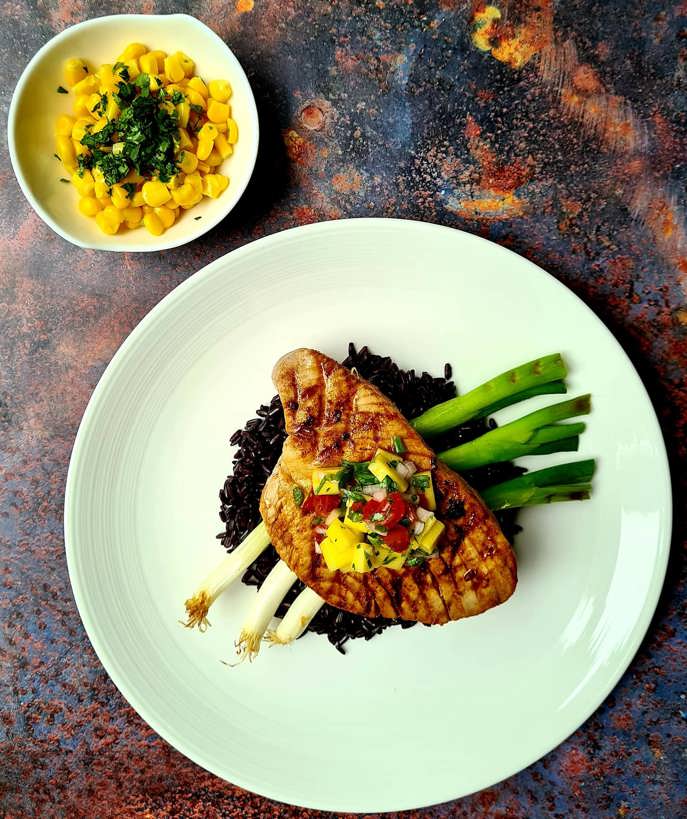 Tuna Steak, Mango and Chilli Salsa, Black Rice, Charred Spring Onion and Coriander Sweetcorn. Eating two portions of fish high in omega-3 fatty acids helps brain and eye development.
Omega-3 fatty acids support brain and eye development, so from the second trimester onwards try to build in two portions a week of salmon, prawns, cod, haddock, trout, mackerel or tuna (don't eat tuna more than twice a week because of the mercury content).
In the third trimester, as you get closer to your due date you'll be wanting to eat two portions of protein a day for the extra energy your body needs as well as increasing your calcium intake for developing strong bones and teeth. So, lots of milk, cheese, yoghurt, beans, nuts and leafy greens.  As baby grows, the size of your stomach will shrink so eating four to five smallish meals a day rather than three big ones is a way to eat well without feeling bloated. For healthy snacks, try making spreads such as hummus, baba ganoush or just roasted vegetables and having it together with some chopped veg or breadsticks.
Here's a quick-to-make delicious meat-free meal that's perfect for any stage of pregnancy. The lentils are a great source of fibre and protein, the spinach and aubergine contain lots of folate, vitamin A, iron and calcium and the pomegranate adds a lovely bite of vitamin C.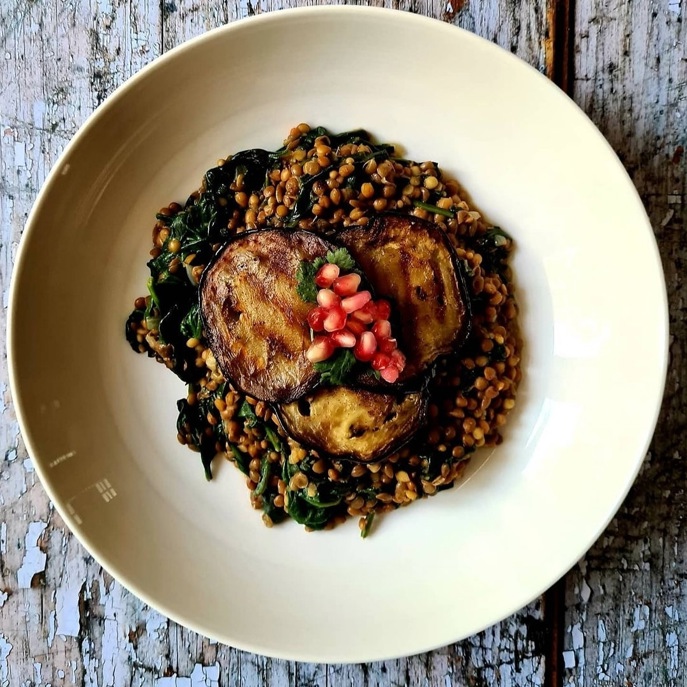 Spiced Aubergine, Spinach and Green Lentil Dahl, Pomegranate
Ingredients
1 large aubergine
1 tablespoon garam masala
1 tablespoon cinnamon
1 tablespoon ground coriander
1 tablespoon cumin
1 onion
3 cloves of garlic
1 x 400g can of green lentils
500ml vegetable stock
100g spinach
Handful of coriander leaves
2 tablespoons approx. of pomegranate arils
3 tablespoons of olive oil
Method
Slice the top and bottom off an aubergine, then slice into 1cm wide discs. Sprinkle a little oil and a pinch each of cinnamon, cumin, ground coriander and garam masala over the aubergine then cook on a griddle on a medium heat for 20 minutes, turning once.
Whilst the aubergine is cooking, dice an onion and fry in a teaspoon of olive oil. Add the remaining cinnamon, ground coriander, cumin and garam masala to the pan and mix well. Whilst that's cooking dice three cloves of garlic and grate an inch of ginger. Add to the pan and cook for a further minute.
Add the drained green lentils and 500ml vegetable stock. Bring to the boil and then simmer for 15 minutes.
Towards the end of cooking add in the spinach and cook until wilted. Divide the dahl into two bowls, top with the aubergine, a few coriander leaves and a teaspoon each of pomegranate arils.
Mix it up
Bulk out the dish by adding some courgette alongside the aubergine. Marinade some sliced chicken breast in the same spices for a meatier version of the dish. Add in some cayenne pepper for some heat. Crumble some feta or paneer into the dahl just before serving or add a few spoonfuls of yoghurt.