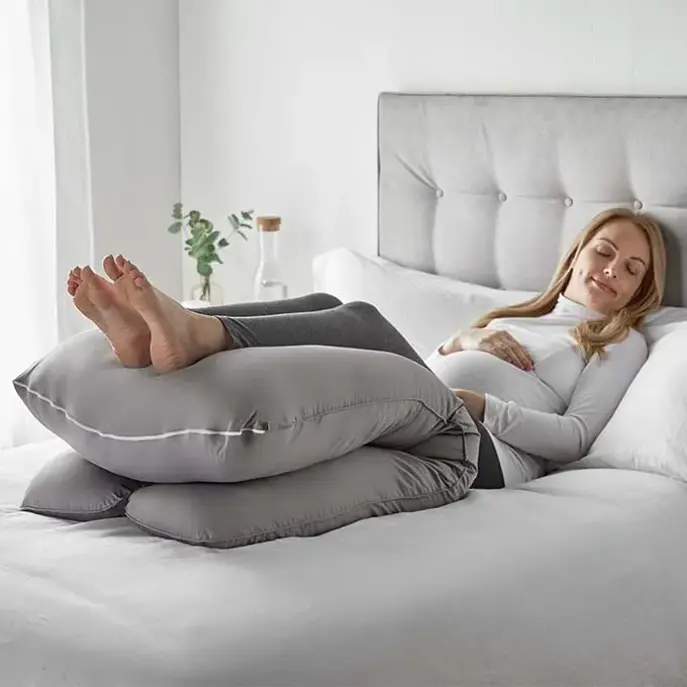 Shop: Pregnancy pillow
What support does the pillow offer? 
The best thing about the pillow is its flexibility. Whether you're pregnant, breastfeeding or simply struggling with aches and pains, the pillow offers targeted support from the front and back for your neck, back, shoulders, hips, pelvis, knees and bump – as well as doubling up as a regular pillow. We've heard from customers who have used our pillow through pregnancy and beyond in a variety of different ways thanks to its unique and flexible design. 
How can it be used? 
The pregnancy pillow's flexible design can be used in so many ways to suit your every need. Use during the night to support your growing bump by aligning your pelvis to lessen the weight on your pressure points, to prop yourself up whilst sitting watching TV, or fold the legs for extra comfort when nursing and holding baby. 
Lots of customers used our pregnancy pillow throughout their pregnancy and are now using in postpartum and beyond. This pillow isn't just for pregnancy. It's an investment piece that's proven to help with the aches and pains we all experience – pregnant or not. It's designed to last by using luxurious materials that live up to everyday use.